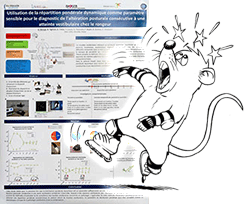 "Use of the dynamic weight bearing as a sensible parameter for the diagnose of postural deficit following a vestibular injury in rodent"
Poster honored by the AFSTAL committee, C.Authissier Prize
A recent study from Aix Marseille University, France, suggests that postural evaluation is strongly correlated to vestibular brain damage on rat. Vestibular nerve section induced balance disorder with a similar pattern as on human being, especially on elderly population.
Current findings demonstrate the
validity of Bioseb's Dynamic Weight Bearing in the assessment of vestibular disease
, as well as its efficacy in the evaluation of spontaneous recovery, through the measure of postural deficit in a freely-moving animal. It opens the application field of DWB to new applications such as balances troubles, inner ear injury, aging disability, etc.
Let's discuss your applications: discover the new DWB2 at FENS, Berlin, booth #26.