When a painful stimulus has to be applied on a particular area, Bioseb offers a large range of Algometers, devices with specific stimulators, where the evoked-pain level is directly measured and displayed.

• Electronic Von Frey: For sensibility threshold of rodent's plantar area

• Smalgo: With its specific stimulator for joint-application, extremely useful in OA-research

• Rodent Pincher: For the mechanical threshold in limbs and tail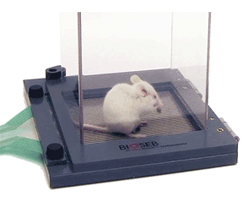 Pain assessment not always requires a direct stimulation. In most of the case, standing on its own body can create a discomfortable sensation. Arthritis, Joint inflammation, etc. are classical examples of diseases where weight bearing devices are the gold-standard methods to measure spontaneous pain :

• Static Weight Bearing (SWB) is a simple device, and allows a basic measure of instability in the hind paws

• Dynamic Weight Bearing (DWB) allows pain assessment on all 4 paws, during a non-restrained exploration of the cage

• Kinetic Weight Bearing (KWB) give the results of the gait efforts applied by a rat or a mice, during a walking sequence.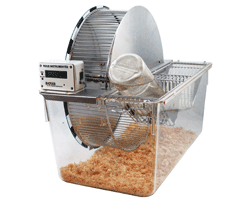 Pain-related behaviors are nowadays studied in more details, because we all have to live with pain. Does my subject feels less pain if it runs more frequently ? Will it moves more during night if its suffer from injury ? This requires an objective observation and, in this field, Bioseb would advice :

• Activity monitoring for 24hr or more, with its Activmeter, an innovative way to quantify rodent's activity in its home-cage.

• Spontaneous exercise observation, thanks to Running Wheels equipped with counter and software, which are able to measure the travelled distance, the speed and the number of access to the wheel.