IN THIS ISSUE:





- SFN 2014

-



Visit Bioseb
in WASHINGTON, DC
on booth nº 3126



- INNOVATION -



NORT-3D
Novel Object :
Exclusive technology
With 3D detection

New EVF-4
Electronic Von-Frey :
New video solution!

WEIGHT BEARING
Spontaneous pain:
An exclusive range



For any question or additional information,
please contact us :


info@bioseb.com
SPECIAL ISSUE - SFN MEETING - WASHINGTON, DC
BIOSEB AT THE SFN MEETING 2014:
OUR LATEST NEUROSCIENCE INSTRUMENTS PRESENTED IN WASHINGTON, DC


The SfN meeting is coming to conclude a year 2014 full of very promising new developments in the in vivo neuroscience field. As every year and since 2008, Bioseb will exhibit these new technologies on Booth 3126 at the convention center in Washington, DC.




Among the brand new developments and highlighted technologies, you will discover:

• An innovative setup to measure the object recognition pattern using 3D technology !
• New Electronic Von Frey for rats, a totally new design including an embedded camera and new spring tips, mounted in a lighter stimulator.
• The Weight Bearing range composed of 3 innovative instruments to measure the weight born on each paw in various diseases.

Our technical and sales team will be very pleased to demonstrate the whole range of exclusive behavioral instruments developed in 2014.

Please drop by for a demonstration on booth nº 3126 from the 15th to the 19th of November!



B. Hancy, Operations manager



NOVEL OBJECT RECOGNITION TEST: 3D SENSOR NOW IMPROVES THE TEST!
Break-through: 3D detection as an additional parameter
for the automation of the task !




Bioseb has changed the game by introducing 3D detection applied to the detection of the recognition.

With the NORT-3D, Bioseb uses its 3D detection technology to add discriminating parameters to the object exploration of rodents within an Open field test. Muzzle position within a cone of detection, body orientation, time spent around the object of interest can now be combined with sniffing or rearing behaviours detected by our special sensor.

For example, Bioseb's NORT-3D can detect that the mouse nose is within 1 cm of the object for 3 seconds and a "sniffing" event occurred in the mean time.The researcher can then fine-tune the detection parameters to what is considered to be an "exploration" of the object

Confidence in video tracking for Object recognition can now be established.




ELECTRONIC VON-FREY V4: WITH EMBEDDED VIDEO!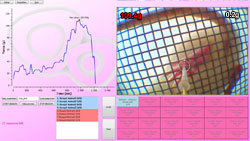 New software - with embedded video!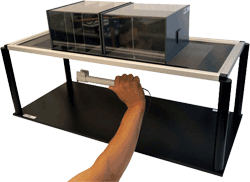 Thanks to 16 years in marketing electronic Von Frey instruments, Bioseb has designed what will be the next standard for reflex testing on freely moving rodents.

The new EVF4 features several new improvements such as:

• Embedded video! Now the paw is viewed from the screen of a computer or tablet where the plantar surface can be seen in HD. More accurate, this new method is much comfortable for the user and so generates better data

• New, non corrosive tips that are gold-plated and mounted on precision springs that absorb the force of impact and reduce the "touch-on" effect. Spring based tips increase the accuracy of the measurement over their range of bending.

• A lighter stimulator wand with the center of gravity placed more centrally for more precise movement and better control of the increase in force.



Von Frey testing has never been so easy!

Come and Try it in Live in our booth 3126 in WASHINGTON, DC!



THERMAL PLACE PREFERENCE: VERSION 2 - FULLY AUTOMATIC SOLUTION
Bioseb is the world leader in the weight bearing technology!


To perform pharmacology studies, test spontaneous deficit of locomotors abnormalities, Bioseb has the setup you will need.

STATIC Weight Bearing: measures weight born on each hind paw when animal is placed within a restrainers for several seconds, now equipped with a TOUCH screen and a color view of the weight/time curves.

• Pain research
• Arthritis research

DYNAMIC Weight Bearing: freely moving animal weight bearing is evaluated with a cage equipped with a sensor mat.

• SPINAL Cord Injuries models
• severity of evoked pain
• ARTHRISIS studies
• Cancer pain model
• Peripheric ischemia
• Tandon and ligaments deseases

KINETIC Weight Bearing: walk through weight bearing test , evaluation of the force impact of each paw when a rodents walking through a corridor

• Parkinson's disease
• Alzheimer's disease
• Arthritis
• Neuropathic pain
• Stroke
• Brain or spinal cord injury
• Ataxia
• Brain trauma
• Muscles related diseases



Click on the pictures above to go directly to the webpage of each instrument.