IN THIS ISSUE:





- SfN 2013

-



Visit Bioseb
in San Diego
on booth nº 334



- INNOVATION -



Open Field :
New 3D Version!

Forced Swimming :
Porsolt's test reinvented

Kinetic Weight Bearing :
A major breakthrough



- CONTACT -



For any question or additional information,
please contact us :


info@bioseb.com
SPECIAL ISSUE - SOCIETY FOR NEUROSCIENCE MEETING - SAN DIEGO
BIOSEB AT THE SOCIETY FOR NEUROSCIENCE MEETING 2013:
OUR LATEST NEUROSCIENCE-RELATED INSTRUMENTS PRESENTED IN SAN DIEGO


Bioseb is looking forward to meeting you at the 43rd Annual Meeting of the Society for Neuroscience in San Diego on booth nº334. It will be a great opportunity to share your research, get valuable feedback from fellow neuroscientists, discuss important issues about the state of Neuroscience research and evaluate the new products we are presenting for the first time to the neuroscience community.




Our technical and sales team will be very pleased to demonstrate the whole range of exclusive instruments developed by our R&D teams in 2013, featuring the following new products:


OPEN FIELD: NEW 3D SENSOR TO DETECT REARING & SNIFFING DURING EXPLORATION!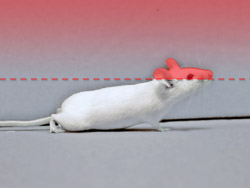 OF-3C: the latest innovation from BIOSEB R&D team
to detect sniffing and rearing in the popular OPEN FIELD test!


OF-3C system uses a very innovative 3D sensor for the detection of the rearing and/or sniffing within the arena. The instrument is able to measure the height of the highest part of the animal exploring the Open field cage. 100% detection of all rearing, even the very short ones! The height resolution offers an unmatchable value of 1 mm for a detection of 1 mm2 and ensures a precise and robust detection of vertical exploration.

No more extrapolation from the tracking detection - only true height measurement! This innovation, embedded in the OF-3C solution, is very easy to use: only three clicks are necessary to run a test. All the features required to run and analyze an OPEN FIELD Test in REAL TIME are presented in only two windows! Come and enjoy a real demo on Booth 334




FST: DUAL SENSOR EXPERTISE FOR THE AUTOMATION OF PORSOLT TEST IN RATS!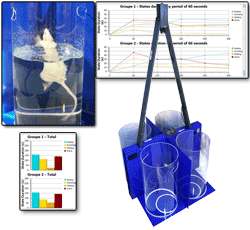 Researchers who have performed Forced Swimming Tests on rats or mice know the difficulty of scoring the animal's behavior correctly and consistently. Furthermore, they are all aware of the difference of interpretation among operators, which can be as high as 15% !



Why not get the help of an expert?


FST DUAL sensor is an original setup that automatically detect 3 states during Porsolt's test: Resting/Floating, Swimming, and Climbing/Struggling. The combination of vibration sensors and video tracking camera store the episodes of swimming in the dedicated beakers (up to 4 animals at a time), in real time. The setup is available for mice as well as rats!

FST DUAL SENSOR is based on the TYC algorithm (Train-Your-Computer) that allows an expert to teach the software how to automatically differentiate the different states. Data and graphics are stored for batches of animals.

The New rat setup with its four beakers of 30 cm diameter will be presented on booth 334 - visit us for a demonstration of this unique solution to a long standing investigative challenge!




KWB : MEASURES PROPULSIVE FORCES USING GAIT ANALYSIS SYSTEM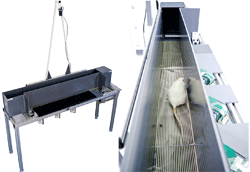 Under prototyping evaluation for a year on Parkinson models and OA models, the Kinetic weight Bearing (KWB) is now available as a release version, featuring up to 6000 pressure sensors over the whole corridor. The KWB is able to automatically analyze the gait parameters of a rat or a mouse crossing a 1 meter (0.8 m for mice) long corridor.

This innovative instrument is based on a unique technology: sensors mats placed on the floor, real-time scoring, real-time video analysis and true weight measurement including peak force in Newtons.

The KWB is very easy to use: two windows summarize the test, and the software automatically detects correct runs within a one animal session of several crossings.

Following gait parameters can be assessed: speed, cadence, number of steps, boS, overlap stride, swing, stance, propulsion duration....

KWB is a powerful tool to evaluate models on spinal cord injuries, arthritis by Hemisection or injection, brain trauma, neurodegenerative models and motor deficiencies.

Visit Bioseb on booth 334 for a demonstration!