IN THIS ISSUE :





- EDITORIAL

-



Welcome !



- EUTHANASIA -



QTK :
Automated QUIETEK
CO2 induction system



- IDENTIFICATION -



RAPID-ID :
Ear tags with QR Codes
Millions of IDs



- CONTACT -



For more information
Please contact
your product manager
on her direct mail ID :



sbillod@bioseb.com
SEPTEMBER 2015
Dear researcher,

As the summer ends, projects and protocols that were put on hold are starting again, and your lab needs the best available instruments for life science.

Since 2005, BIOSEB LAB is your preferred provider, with a wide range of products dedicated to In-Vivo research.

In this September issue, we focus on two products aiming at simplifying your life: an automated system for euthanasia by CO2 induction and a revolutionary identification system by ear tags using QR code and barcode scanner.

Don't hesitate to contact us if you have any question regarding this products, or if you're looking for a specific instrument to match your specialized research protocol.



Stéphanie Billod
Products Manager



QTK : QUIETEK CO2 INDUCTION SYSTEM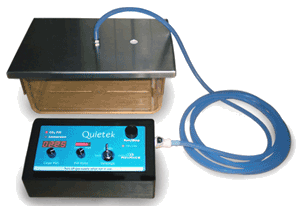 Euthanasia is an experimental necessity that needs to be strictly controlled and to follow ethical rules largely admitted by the scientific community.

Instantaneous loss of consciousness and very rapid death are the expected objectives of a mastered euthanasia. To reduce stress and pain experienced by the animal but also to ensure the safety of the staff responsible for the procedure, techniques and technology have improved.

Much progress has been made in this area and we are pleased to present our new product that meets these criteria.

This ingenious system consists of a control unit for CO2 induction, as well as a range of lids which fits most cages used in animal facility. It automatically calculates the CO2 dose to be administered according to the volume of the cage and the desired fill rate.

It manages different levels of concentration and thus to switch from unconsciousness to death in repeatable manner and without any possible error coming from the operator.

This apparatus responds to new ethical guidelines stating that euthanasia by introduction of an animal in a pre-filled chamber in CO2 is unacceptable (2013 AVMA guidelines).

It is available in 2 versions: 1 or 2 cage (s) to fit your needs.



RAPID ID : EAR TAGS WITH QR BARCODES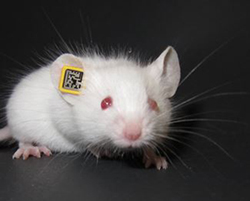 Most animal facilities have critical needs in animal identification, be it for maintaining the animal line or simply stalling.

Various technics are used for such a purpose, depending on the number of animals in the same cage, their vivacity, the techniques used, such as MRI, for instance, it is often difficult to find the perfect technique.

Composed of an encapsulated hardened metal barcode in a though, chew-resistant, medical-grade, advanced polymer body, our ear tags RAPID LAB are really close to it!

The barcode contains a proprietary combination of alphanumeric digits providing millions of unique identification numbers.

Available in 5 different colors, they also allow ultra-fast first visual recognition. They can be auto-matched to computer-generated, colored cage-card labels using the website application.

A starter kit allows practicing this new technique on a membrane similar to the ear of a rodent. It also contains 40 labels of each color, an applicator and a removal tool. The bar code is compatible with most available industry scanners.