A unique setup for the automation of the Open Field test for rats and mice : 3D-camera based technology is now capable of direct height measurement allowing detection of 100% of rearing events and exploratory posture. Dedicated software can be set up in only 3 clicks to automatically assess and report global parameters, zone transitions and rearings. Easily expanded for Novel Object Recognition.


Presentation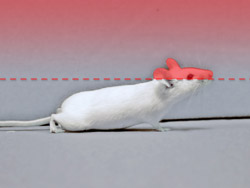 Although the Open field test is the most widely used test to evaluate basal exploratory behavior, none of the currently available systems can record horizontal and vertical activity without adding a third component such as beam break frames. BIOSEB OF3C utilizes 3D video technology to achieve 100% rearing detection by direct height measurements.





Operating principle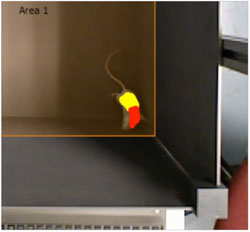 OF3C Screenshot
The OF-3C tracks a single subject (rat or mouse) with aerial video within the arena and records each rearing event based on the predefined height with an accuracy of 1 mm over 1 mm2. Our rearing detection algorithm perfectly matches manual scoring. Zone transitions remain realistic thanks to surface thresholds and specific morphologic detection. Drawing a zone is extremely easy using our predefined zone tools: name, color, form, layer priority for complex zone shapes, etc.
The straightforward software computes and stores data in real time. While it can be used with any type of arena for 2D detection, all components needed for 3D detection are provided with your purchase.
Data sheet
Camera resolution

HD USB based

Dimensions - Animal container

Mice maze Inner dimensions :400 mm / W 400 mm / H 400 mm Rats maze Inner dimensions : L 1000 mm / W 1000 mm / H 400 mm

Dimensions - Overall

Mice maze Total dimensions : L 472 mm / W 440 mm / H 930 mm Rats maze Total dimensions : L 1082 mm / W 1050 mm / H 1770 mm

Materials

Maze and Stand Included -Grey PVC, to be chosen between 2 versions: rats or mice

Technology

Arena RAL 7032/ Camera RAL 9005 Color tracking+ 3D technology Real-time from tracking and 3 D camera