An innovative activity meter: utilizing vibrational analysis to measure Activity and Locomotion of rodents (mouse and rat) in their home cage. ActivMeter is an accurate and economical instrument for longitudinal activity monitoring that eliminates operator interaction and subjectivity


Presentation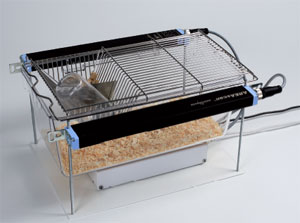 Activmeter with extra IR-sensors
ActivMeter is a simple-to-use home cage actimetry system. The instrument uses vibrations generated from within the cage to measure locomotion and includes exhaustive functions to quantify rodent activity over short or long periods of time. Acquisition is usually set by 24 hour increments to quantify the activity over a single circadian cycle.

With competitive pricing for 1 to 8 cages, it is a 'must' when straigthforward quantification of the locomotor phenotype is needed.



Operating principle

The subject's home cage (supplied) is set upon a highly sensitive vibration platform that sends raw subject activity in real time to a wired PC running ActivMeter software. The software displays the real-time activity type, position and motion, as well as the parameters measured during each sampling period for each subject. The operator can also mark special behaviour types using a notepad application and keyboard shortcuts. Very different from other techniques, Activ-Meter does not require surgical implantation, does not involve home cage modification, and is not disturbed by environment change (like bedding movements) in the cage. Other activity monitoring systems that uitlize infra-red beams and video tracking cannot be reliably used with bedding, have poor spatial definition or cannot detect small movements and subtle behaviors, such as tremor. Unlike them, the BIOSEB ActivMeter utilizes an actimetry technique similar to force based actometers, but does not require the use of specific cages and statistical algorithms that make other activity measurement systems very expensive to set up and use in daily practice.


Data sheet
Accuracy

User calibration Sampling rate 100 Hz Spatial accuracy : 1 cm default for mice / 2.5 cm default for rats

Dimensions - Overall

23 x 14 x 5 cm

Power supply

Power adapter 110/220V