New version of the SMART video tracking system: the most flexible and user-friendly solution for automated evaluation of animal behavior just became even better. Ultra-performant, modular, easy-to-use and cost-saving - a must for all your video-based analysis of pre-clinical and neuroscience applications involving rodents (rats and mice).

Software Overview
Smart 3.0 is the latest release of the SMART video tracking system, featuring
the most flexible and easy-to-learn software for the automated evaluation of behavior in the widest range of pre-clinical and neuroscience applications
:
ACTIVITY & EXPLORATION:
ANXIETY:
DEPRESSION:
LEARNING & MEMORY:
ADDICTION & REWARD:
SOCIAL INTERACTIONS:
ZEBRAFISH STUDIES:

- Locomotor Activity, Novel Object Test, Cycling Behavior
- Open-Field, Elevated-Plus Maze, O-Maze, Black And White Test
- Forced-Swimming Test, Tail-Suspension Test
- Water Maze, Radial Maze, T And Y Maze, Fear Conditioning, Object Recognition Test
- Conditioned Place Preference, Odor Place Preference
- Resident Test
- Larvae Tracking - Place Preference Test, etc...

Utilizing an advanced image analysis, SMART 3.0 allows the recording of activity, trajectories, events, social interactions, and global activity of laboratory animals (rodents, rats, mice...) - even under extreme conditions (low-lighting, great similarity between the subjects and the scenario, etc.). SMART 3.0 provides users the versatility of a modular system with the capabilities of a broadband package. Our enhanced data analysis includes customizable data reports, with the possibility of creating
outstanding reports
based on our new advanced 2D and 3D activity map tool, as well as zone transition lists and events list reports with time evolution and distribution of occurrences. The SMART 3.0 system allows you to perform
complete advanced calculations for unlimited behavioral paradigms
: time/distance/entries in zones, average speed, alternation triplet, Whishaw's error, mean directionality, parallel index, turning tendency...
SMART 3.0 was developed with the daily experimental process in mind - easy-to-use interface, highly flexible structure fitting the most applications and budgets. Advanced features ensure reliable data and
increased productivity, saving valuable time and resources
. SMART 3.0 emphasizes flexibility, productivity and simplicity - just add your desired settings, SMART 3.0 will do the rest. Simply powerful.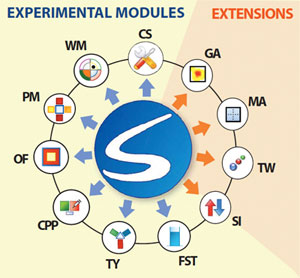 A new modular design for fulfilling your needs!
With a new modular structure, SMART 3.0 offers the most flexiblity for our customers. The SMART 3.0 platform is the main core of a great number of standard and advanced features. Save time and money: adapt the system to meet your specific needs, and expand as your research requires!
A few examples of available modules:
• Experiment-targeted Modules (SMART-WM, PM, OF, CPP, TY, FST...)
• Social Interaction Module/Extension (SMART-SI)
• Global Activity Extension (SMART-GA)
• Multiple arena Extension (SMART-MA)
• TriWise Extension (SMART-TW)
• Input-output Extension (SMART-IO)
Besides preset application-specific modules, the
SMART customizable module (SMART-CS) provides the most versatile and powerful solution for running fully custom experimental projects
:
• Free edition of arenas, zones and associations.
• Access to the full options of the Timing settings.
• Free definition of calculations and data reports.
Contact us for more information about all available modules.

Key features
• More than 15 years of experience in video tracking systems for laboratory animals (mouse, rat, rodent).
• Flexibility, reliability, productivity and simplicity all combined in the same product!
• Modular structure for fitting all experimental needs (basic and advanced) and budgets.
• Designed with the latest in both hardware and software technologies for increased functionality and maximum productivity for your experiments.
• Known as the most user-friendly interface in the market!
• Dedicated Customer Service & Support Dept. for insuring consultancy service & post-sales assistance.

Parameters measured:
• Parameters characterizing the animal trajectory (distance, speed, permanence time in zone etc.)
• Specific calculations for Global activity (spontaneous activity, immobility/low/high movements, 2d and 3D map activity images
• Specific advanced calculations for water maze, open-field, plus-maze, T-Y maze, place preference, forced-swimming test, etc.
• Automated detection of integrated behavior through the TriWise 3-points detection (rearing, rotations...)
• Events visualized by the experimenter (using event recorder)
• Group evolution graph

Components included:
• Built-in RECORDIT video recorder
• USB Flash key with SMART software installer, drivers/codecs and User's Manual
• SMARTRC Remote control to START/STOP the tracking process
• USB extension cord for SMARTRC Remote control