Availability:
Reference: BIO-EVF5
The latest evolution of Bioseb's Electronic Von Frey instrument for determining the mechanical sensitivity threshold in rodents (rats and mice).

The EVF5 includes an embedded camera inside the stimulator handle and a new, dedicated software revolutionizing the experimental process.


Presentation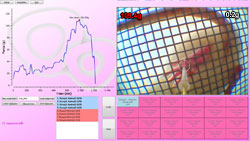 New EVF Software with embedded video
16 years after the creation of our first Electronic Von Frey instrument, Bioseb is revolutionizing this standard test for determining the mechanical sensitivity threshold in rodents (rats and mice).

A well-known issue with classical Electronic Von Frey instruments is the necessity for the operator to bend into an uncomfortable posture in order to stimulate under the rodents' paws. Despite using more ergonomic workplace configurations (lower seats and elevated desks), the operation can remain strenuous or even painful for the operator when repeated over large cohorts of animals.

In order to solve this issue, we embedded a camera inside the stimulator handle, which allows you to record and display video directly from underneath the paws. In conjunction with our dedicated software, this innovation allowed us to re-think the position of the operator during the test.

When used on a tablet or touch-screen, the EVF5 software allows operators to visualize the video stream in real time without having to bend over. Furthermore, it integrates all additional functionalities that might be required during such a test:
• Animal lists management.
• Real-time curves display: visualizing the force over time helps operators improve their execution and the repeatability of their measurement
• A table allowing you to assign each measurement to the corresponding paw by directly clicking on the touch screen.
• A replay function for both videos and force curves allowing the operators to delete invalid measurements.
• Exporting results to an Excel spreadsheet.



Operating principles

Built around a stimulator handle connected to a touchscreen tablet with an embedded, dedicated software, the instrument was designed to offer operators a complete working environment for the Von Frey Test which does not require them to bend over during stimulation.

The operator creates a new experiment on the dedicated software and configures their animal list as well as the different paws that they wish to stimulate (usually the hind paws). The test is then started by taking the stimulator handle and observing the target zones under the animal's paw directly via the video stream on the touchscreen tablet, without having to bend over to look under the plantar surface.

Stimulation is usually applied on the rodent's hind paws. The paw's withdrawal following the mechanical stimulation is recorded as a response to the stimulus. During measurement, the operator can observe in real-time and thus adapt the intensity of the applied force.

The maximum force applied with the instrument, which corresponds to the necessary value for the paw's withdrawal, is saved into the system. The operator can then decide to validate the measured value with a simple click on the touchscreen (see screenshot below) or re-launch the measurement with a new stimulation.



Supplied with

• 1 transportation case
• 1 foot switch for hand-free resetting of the test
• 10 disposable measurement tips of 0.5 mm diameter
• 1 spring tip for thresholds of 0-10 grams
Data sheet
Accuracy

+/-0.25% of full scale ( +/- 1,25g)

Internal memory

up to 100 values

Power supply

220-240 V (other voltages on request)

Range

0 to 500 grams (5N)

Resolution

0.1 gram
BIO-STD EVF:

STAND Sur-élevé
Stand de 30 cm de haut,avec sol percé pour test de heargreaves, support jusqu'à 2 cages PVF
Stand de 30 cm de haut,avec sol percé pour test de heargreaves, support jusqu'à 2 cages PVF